10 December 2010 @ 07:56 pm


beautiful st. vincent video


10 December 2010 @ 07:37 pm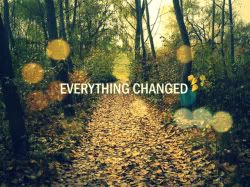 24 November 2010 @ 10:20 pm
it's 10.15 and the night is easing into summer,
like a body's temperature adjusting to a pool.
the breeze carries like airborne seeds the sounds of distant goods trains, nocturnal insects, the occasional dog, and then out of these rises the alarmed mew of a peacock: a bird i have never noticed in our neighbourhood before.
as i hear it i am reminded of agatha christie and sherlock holmes mysteries, of shots in the dark and english countryside, of nick drake, of birds wings and trees like alders and oaks, of fops like john cleese and jeremy irons, of the game cluedo, and of a stirring feeling inside.
waking to a new, gorgeous bird in the garden.
welcoming wholeness, truth and beauty
as, as a child, i lured the wild and fragile turtle doves, with seeds and honey under my nanna's flame tree.
looking out onto the dewey green first-light of 5am, through clear glass doors,
with the nostalgic happiness of holding a newborn.
from now on i know what i need and want merge.
i feel with every molecule, i'm water and oxygen and carbon.
just like waterfalls, diamonds, meadows, glaciers, bonfires and stars.
Current Mood:
relaxed